EXPANDED PROPERTIES. EXPANDED POSSIBILITIES.
FabCO® Triple 7 gas-shielded flux-cored wire now has expanded mechanical properties — so you have expanded possibilities to use it on more jobs, including both T-1 and T-9 applications. Because we made a great wire even better, the new, enhanced Triple 7 is still just as easy to use. And it's still made in the USA using steel melted and made in the USA.
GREATER VERSATILITY
The new, enhanced Triple 7 expands the types of jobs you can weld with it, so you can simplify your wire inventory.
AWS Classifications: E71T-1 C/M H8 and E71T-9 C/M H8 AWS
ABS Approval: Toughness requirements of 3Y classification (mixed gases and 100% CO2)
AWS Approval: D1.8 Demand Critical Seismic Applications
CWB Approval: 100% CO2 to 85% argon/15% CO2

HIGHER QUALITY
Expand your expectations of the quality that flux-cored wire should deliver. Triple 7 consistently produces great results.
Multiple shielding gases: Triple 7 excels throughout a range of amperages and is optimized using argon/CO2 mixes, but also runs great on 100% CO2.
Fast-freezing slag: Excellent weld pool control for consistent out-of-position welds.
Smooth, stable, spray-like arc: Creates a flat bead profile, so it's easy to make great welds.

IMPROVED PRODUCTIVITY, COST SAVINGS
Triple 7 boosts throughput and reduces expenses so your welding operation's possibilities for success are greatly expanded.
Easy-to-remove slag: Simplifes interpass and post-weld cleanup and reduces rework caused by slag inclusions.
Less risk of hydrogen cracking for less rework: The H8 designation ensures a weld deposit with less than 8ml of hydrogen per 100g of weldment.
Low spatter levels: Less cleanup time means more welding time.
---
FIND A DISTRIBUTOR
Ready to expand your welding operation's possibilities with the new, enhanced Triple 7 wire? Get it from a distributor near you.
---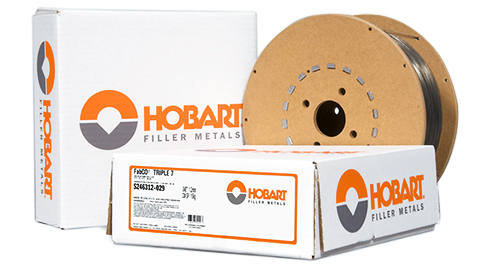 GET THE DETAILS
Visit the new, enhanced Triple 7 product page for more facts about how this flux-cored welding wire can expand productivity and reduce costs.
---
TALK TO AN EXPERT
Call our Applications Hotline at 800-532-2618 or email us at [email protected] to have us answer any of your questions or review your welding application.